Arts & Exhibitions
The Hive has a rich and varied programme heavily influenced by the aim to support and promote the work of new and emerging artists alongside experienced local artists, groups and organisations.
If you are interested in hiring exhibition space please read our terms and conditions before completing and submitting an exhibition enquiry form. Completed forms or any enquiries about exhibiting at The Hive can be sent to programming@worcestershire.gov.uk.
---
Upcoming exhibitions
Catt Standen presents The Starlight Showstoppers
Monday 27 November 2023 - Tuesday 2 January 2024
The Atrium
This year, The Hive has partnered with Worcester City Council, Worcester BID, local artist Catt Standen, and Crowngate Shopping Centre to produce The Starlight Parade & Trail to start the festivities before the city's Christmas Lights switch on.
The Starlight Showstopper lanterns that feature in the parade, themed around literary classic The Nutcracker, will be exhibited at The Hive alongside a behind the scenes glimpse into the creative process. There will also be a 'Meet the Artist' event on Saturday 9 December, giving the public the chance to meet Catt as she talks about the inspiration for and creation of the spectacular willow lanterns.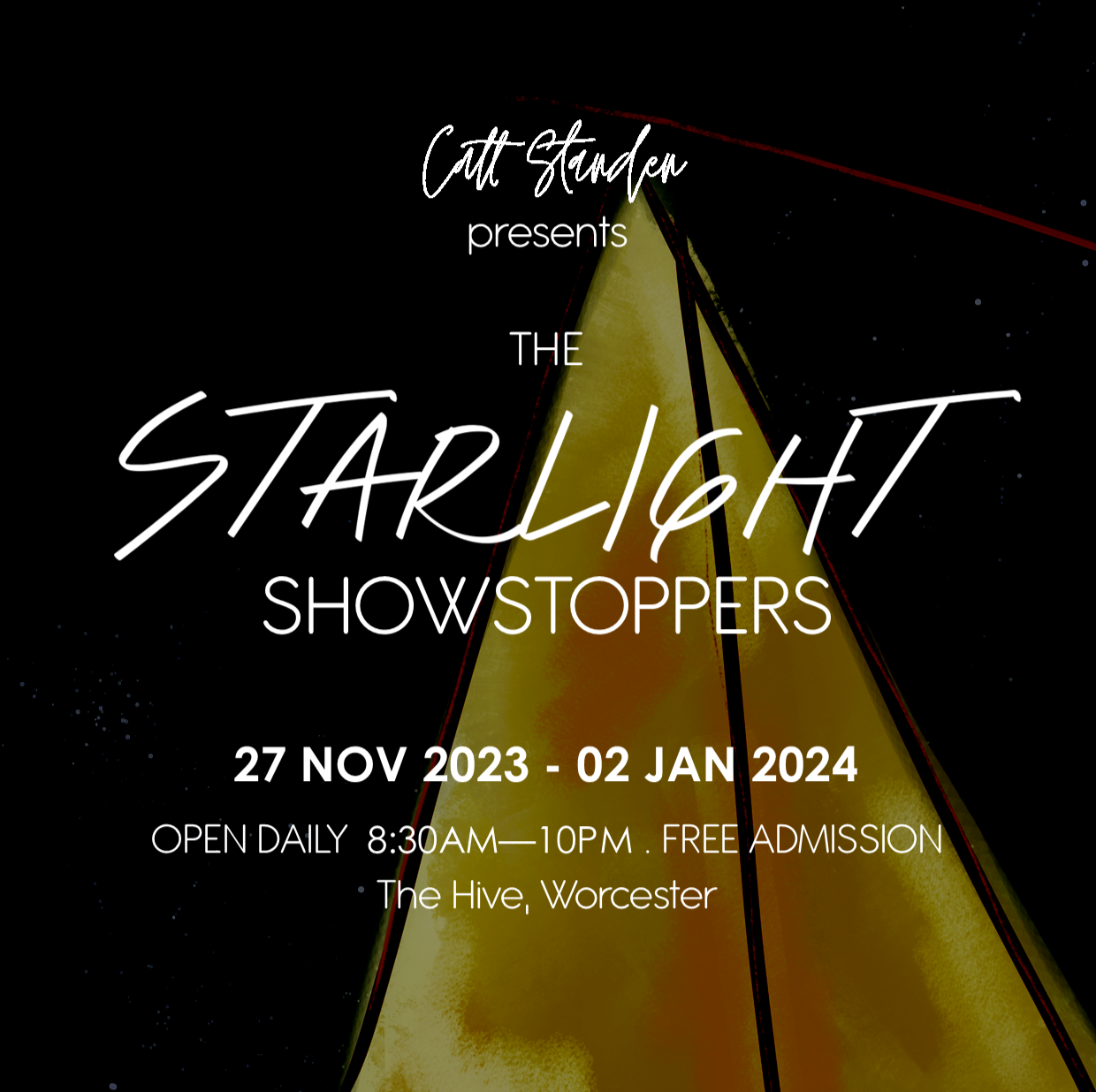 My Worcestershire poetry
Friday 17 November 2023 - January 2024
Cafe Wall
Find out what makes Worcestershire special to the poets of The Hive's Poetry Bubble. With the prompt of My Worcestershire, our poets have written from their hearts to tell us about the county and how it makes them feel. From Sabrina to seagulls, the hills to the horses, Cathedrals to Canals, there's something for everyone.
The Rail Trails: Worcestershire Project
Thursday 23 November 2023 - January 2024
Cafe Cabinets
The county's rail network and walkers
Worcestershire's rich history and stunning countryside makes it a perfect destination for walkers wishing to explore the county, and Rail Trails is perfect for those wishing to arrive by train. There are four rail lines running through Worcestershire providing easy and sustainable travel for locals and visitors alike.
How it works
Select a preferred line and then choose one of the Rail Trails that you can walk between stations. 100 miles of entirely new, freely downloadable walking routes running alongside the Worcestershire rail network have been created. They have been carefully digitally mapped and tried and tested with a set of bespoke, newly-commissioned line illustrations accompanying each map sheet.
A collaboration with regional organisations
The project was initially evolved by Lyndon Bracewell of the Worcestershire Ramblers and has been funded by Worcestershire Community Rail Partnership (WCRP), an organisation that aims to promote and encourage wider use of our rail network. The project team also consists of WCRP's Officer Fiona Saxon, and mapmaker and walker Andy Stevenson, lecturer in design at the University of Worcester's School of Arts.
Find out more about the project here.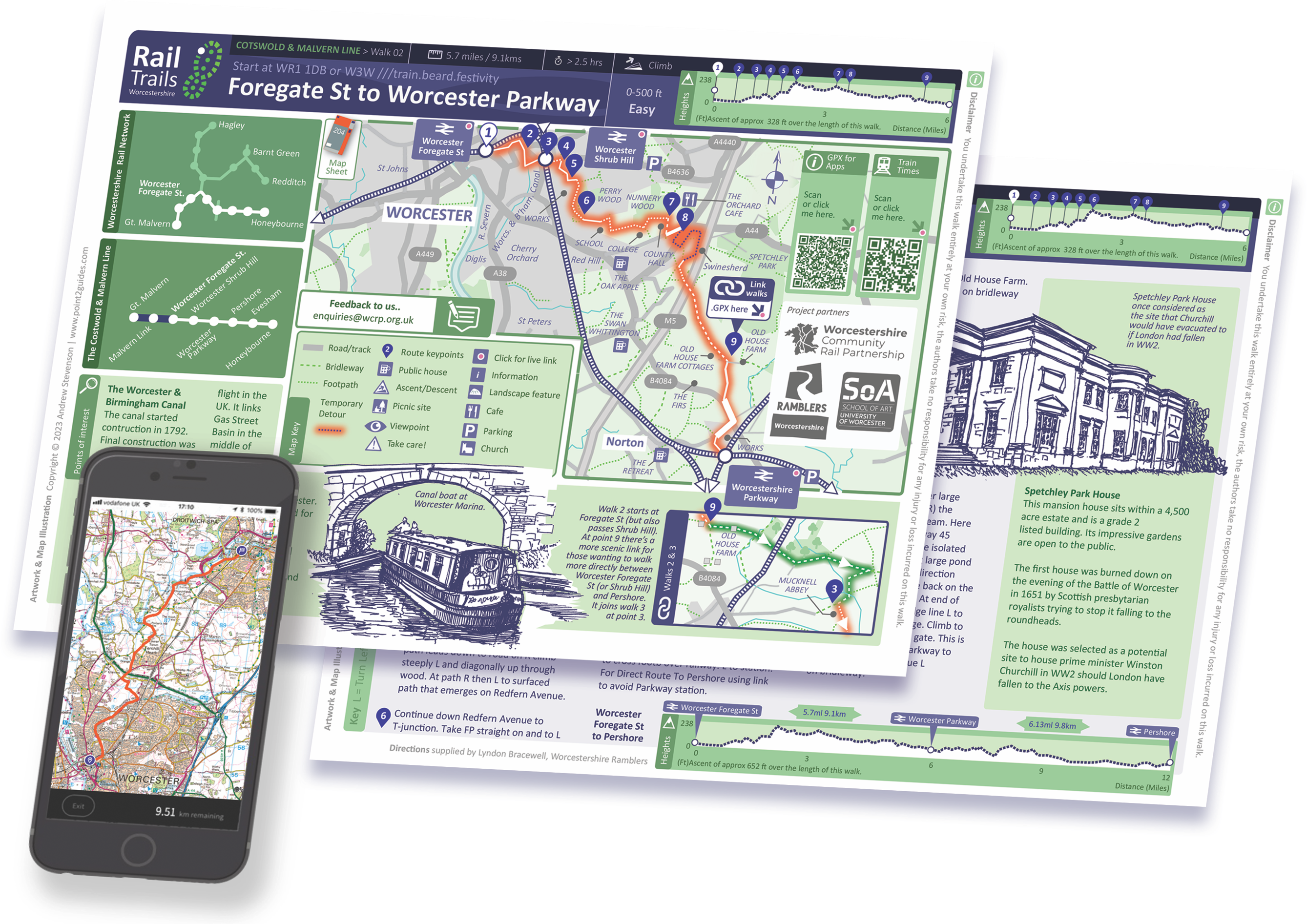 ---